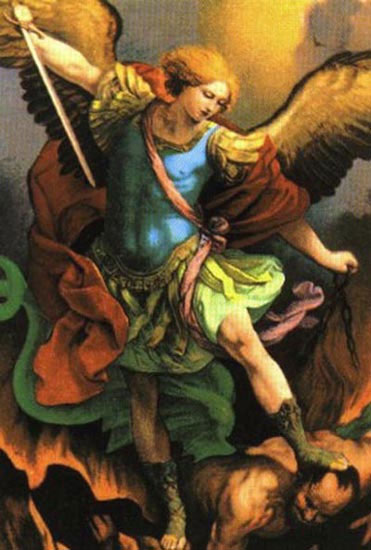 Excuse me if this picture seems "extreme" or too bold for some people's taste. It's just that I am fed up with half-truths, obfuscations, pretense and hypocrisy in the Catholic Church and in other Christian bodies. This picture is not just about spiritual warfare, though it certainly signals that; it is also about being loyal to the Truth. I have always believed that Catholics should be people of Truth and that means, above all, seeking the Will of God and rightly honouring the revelation given to us in Jesus Christ. At the heart of our faith is the astounding mystery of the Incarnation. We are Christ-people and that means that we have to walk with Him, speak Him and live Him. It means having a faith that is "firm and immovable as a rock". It means STANDING on the rock of Christ, Faith AND Peter. It means speaking the truth in love, but not with a wishy-washy false "compassion" or with a fear of offending (when that is necessary or unavoidable). Love does not mean patting people on the back and pretending that what is manifestly sin is nothing of the sort. Love does not mean license. Love can mean, sometimes, direct, confrontational, challenge. But then, always there is the magnificent MERCY of God shown in the Five Wounds and the revelation of the Sacred Heart.
I pray that in the Year of Faith we will see real Catholics walking our streets, singing in our churches, unafraid to be what they are and "delighting in the Truth"
But then, is this too much to hope?